fullbeauty
Városi Legenda néven mutatta be a Rossmann drogérialánc első, sajátmárkás ágyneműkollekcióját. A kiváló minőségű alapanyagból készült textilek mintázatát Budapest ikonikus helyszínei ihlették, a grafikákat pedig a tervezők a legújabb trendeknek megfelelő stílusban alkották meg. A limitált darabszámban elérhető ágyneműk kétféle mintával, négyféle színben kaphatók egészen karácsonyig. A különleges ágyneműket egy ottalvós partin mutatta be a Rossmann az Iparművészeti Múzeumban.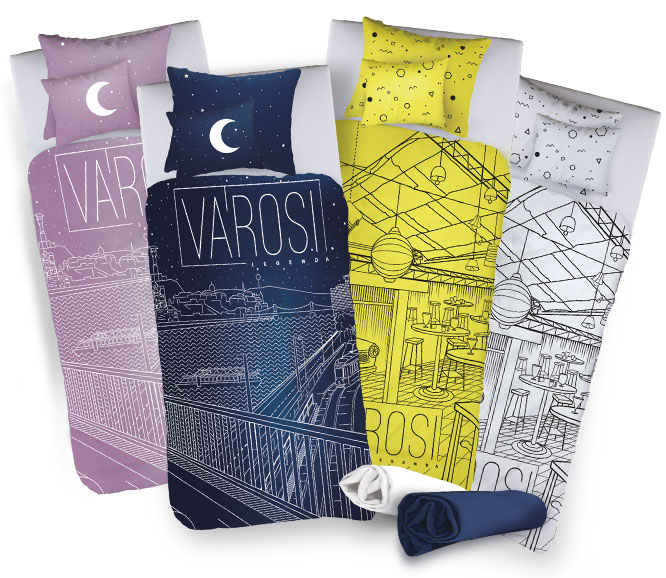 A hálószobai textilekre ugyanis olyan jellegzetes budapesti látványosságok kerültek, mint a Duna látképe vagy a Szimpla kert. A legfrissebb trendek szerint megalkotott fekete vagy fehér grafika hátteréül, a fehér, a sötétkék, a levendula és a citromsárga árnyalatokat választották a dizájnerek, így a sorozat darabjai egyaránt feldobják a fiatalabb és idősebb korosztály hálószobáját.
A tervezők nemcsak a divatos minta- és színválasztásra figyeltek, hanem különös gondot fordítottak arra is, hogy a textilek között kényelmes, nyugodt és igazán pihentető legyen az alvás. Így bőrbarát, jól szellőző, és kellemes tapintású textíliát választottak a Rossmann ágyneműinek alapanyagául, illetve a divatos és kényelmes szettek mellé kétféle színben lepedőről is gondoskodtak.
A vidám kollekció darabjai október 9. és december 24. között a Rossmann őszi-téli lojalitás programja keretében vásárolhatók meg az ország összes Rossmann üzletében. Az exkluzív ágyneműsorozat reklámfilmjének zenéjét pedig a Wellhello készítette.  Csodás este volt!
A bejegyzés trackback címe:
Kommentek:
A hozzászólások a vonatkozó jogszabályok értelmében felhasználói tartalomnak minősülnek, értük a szolgáltatás technikai üzemeltetője semmilyen felelősséget nem vállal, azokat nem ellenőrzi. Kifogás esetén forduljon a blog szerkesztőjéhez. Részletek a Felhasználási feltételekben és az adatvédelmi tájékoztatóban.