fullbeauty
Idén nyáron inspiráljon Mexikó! Az Astor meghív Téged egy színes utazásra ebbe a magával ragadó országba, az új "From Mexico With Love" kollekciójával, melyben  körömlakkok és szemhéjpúderek szerepelnek.
Engedd, hogy elcsábítsanak a perzselő nap vibráló árnyalatai, a lenyűgöző tájak és az élénk színű ruhaköltemények. Megjelenése legyen vad és latinos ezekkel a szenvedélyes, földes- és vizes árnyalatokkal, melyek a 2012-es tavaszi/nyári kifutókat uralják. Ideje egy cseppet  megfűszerezni a stílusát!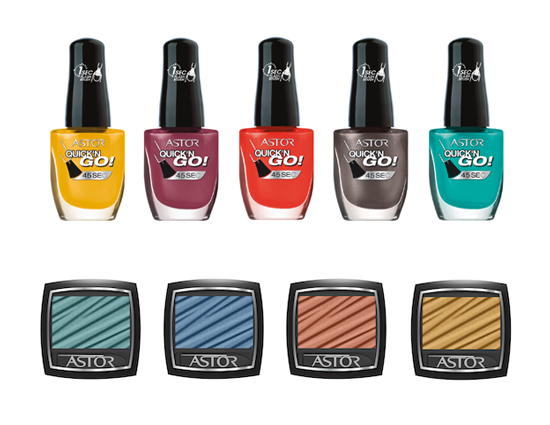 Fesd csodaszépre körmeidet mindössze 45 másodperc alatt a "From Mexico With Love" kollekció öt új árnyalatának bármelyikével az Astor Quick & Go körömlakkjaiból. A mexikói óceánpartok és a vidék színeinek ellentéte által inspirált zöld, kék, barna, arany és rózsaszín tónusok biztosan nem maradnak észrevétlenek! Használjd a nyár legdivatosabb színeit például a türkiz Caribbean Sea (#325) árnyalatot, de semmiképpen ne hagyja ki az olyan nélkülözhetetlen színeket, mint a barna Mineral Brown (#324), a mandarinos Coral Reef (#323), vagy a magentaPink Paradise (#321) árnyalatot a lenyűgöző körmökért, melyeket imádni fog. Mivel ez a körömlakk mindössze 45 másodperc alatt megszárad, ráadásul egyetlen réteg elég az akár öt napig tartó, tökéletes fedésért, az extrém színekkel játszani még sosem volt ilyen egyszerű.
A bejegyzés trackback címe:
Kommentek:
A hozzászólások a vonatkozó jogszabályok értelmében felhasználói tartalomnak minősülnek, értük a szolgáltatás technikai üzemeltetője semmilyen felelősséget nem vállal, azokat nem ellenőrzi. Kifogás esetén forduljon a blog szerkesztőjéhez. Részletek a Felhasználási feltételekben és az adatvédelmi tájékoztatóban.